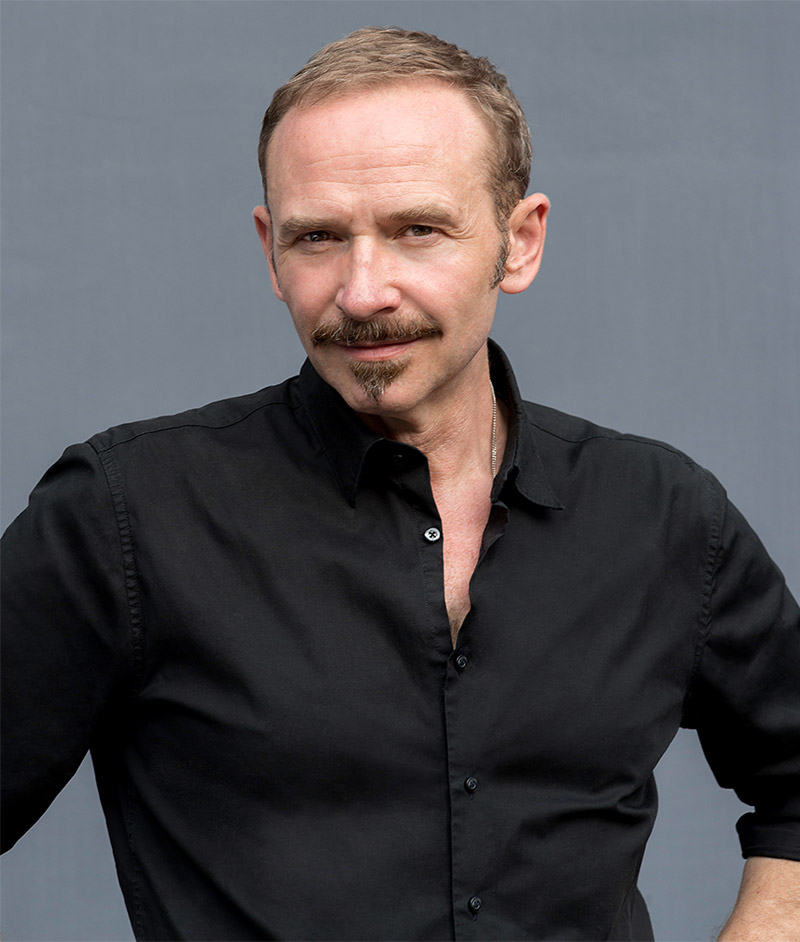 Photo: Herbert Beermann
Markus Rock was born in Solingen/Germany and began his career as a make-up artist, stylist and production designer before he began to use photography as his preferred medium of expression. After having worked over 25 years with international high profile clients such as Vivien Westwood, Harper's Bazaar, Madame, Levis, MTV and Sony Music in San Francisco, Munich, Paris and Barcelona, he moved to Berlin in 2008. Since then, he has devoted himself first of all to the production of fine art photography. All his photographic work centers on the question of what it means to be human in contemporary society.
Markus Rock has been invited to the international art exhibition "Nordart" for the third time in 2023. After the series "The I and the Other" (2018) and "Julia" (2019), this year the Nordart shows the series "Chimera", consisting of 10 works. These photographs are primarily a sculptural work. Two amazingly similar dancers choreograph the fusion of their bodies into new, independent beings.
As one of the finalists for the BBA Photo Award (2022), Rock exhibited works from the series "The Flood" (2021) at Kühlhaus Berlin, which was created before and during the century flood in the Ahr Valley, Germany. The series was also featured in the group exhibition "Fluidity" (2022) at KIB Berlin.
Gallery W in Osnabrück exhibited (2019) the still life series "Vanitas", which was subsequently on display at Wolfshagen Castle (2019).
"The I and The Other" was on display in the Kesselhaus Uferstudios Berlin (2016) and an earlier version of the work was part of the group exhibition "Leib" (2015) at the BBK Berlin.

Markus Rock wurde in Solingen/Deutschland geboren. Er arbeitete als Maskenbildner, Stylist und Produktions­designer, bevor er begann, die Fotografie als sein bevorzugtes Ausdrucksmedium zu nutzen. Nach 25 Jahren erfolgreicher Zusammenarbeit mit inter­nationalen und hochkarätigen Kunden wie Vivien Westwood, Harper's Bazaar, Madame, Levis, MTV und Sony Music in San Francisco, München, Paris und Barcelona, zog Rock 2008 nach Berlin und widmet sich seitdem vor allem der Kunstfotografie. Im Zentrum seines fotografischen Werkes steht die Frage, was es heute bedeutet, Mensch zu sein.
Markus Rock wurde 2023 zum dritten Mal zur internationalen Kunstausstellung »Nordart« eigeladen. Nach den Serien »Das Ich und das Andere« (2018) und »Julia« (2019) zeigt die NORDART dieses Jahr die Serie »Chimera«, bestehend aus 10 Arbeiten. Diese Fotos sind in erster Linie eine skulpturale Arbeit. Zwei sich erstaunlich ähnelnde Tänzerinnen choreo­grafieren die Verschmelzung ihrer Körper zu neuen, eigenständigen Wesen.
Als einer der Finalisten des BBA Fotopreises (2022) stellte Rock Arbeiten aus der Serie »The Flood« (2021) im Kühlhaus Berlin aus, die vor und während der Jahrhundertflut im deutschen Ahrtal entstand. Die Serie wurde auch in der Gruppenausstellung »Fluidity« (2022) im KIB Berlin gezeigt.
Die Galerie W in Osnabrück stellte (2019) die Stilleben Serie »Vanitas« aus, die danach in Schloss Wolfshagen (2019) zu sehen war.
»Das Ich und das Andere« war im Kesselhaus Uferstudios Berlin (2016) zu sehen und eine frühere Version der Arbeit war Teil der Gruppenausstellung »Leib« (2015) im BBK Berlin.